__________________________________________________________________________________________________
December 05, 2013

Client odds and ends:

So I pick up Asa Akira to take her at the airport at 5:45 am. She's a celebrity porn star but very cool - she's easy to talk to and we could almost be called friends. Well, comfortable enough that I could tell her how weird and happy I was to have waken up and having to dump a dookie. My body doesn't usually require one until 7:30 am and oddly enough, at 4:30, I did one! I didn't even eat much the previous night, maybe literally 5 or 6 short fries, so I was kinda excited to have something to tell her. But she fell asleep. C'mon man, who doesn't want to hear a poopy story in the early morning. I guess not Asa Akira.

Ok, if you want me to pick you up at the airport, please notify me that you're not wearing makeup so I have an idea that the person I'm picking up will not look like the person I've been picking up. Wave to me because you still know what I look like while you look completely different.

Do you think my rate is high? You look like you think my rate is high. But here's the thing, you think its high because you think I live right next door to you. I don't. I live a half hour from you and than you want to go in completely a different direction. Try calling yellow cab if you think they're cheaper. Or call lyft if you don't mind everyone at the hotel staring at you and your ride with the pink moustache.

Are you really my client? No, you're my friend, I've known you for 10 years so I'm not going to charge you. I would have driven you anyways if I wasn't in this line of work - its really not that hard, turn the wheel right and the car goes right.

This one client gave me an extra long kiss on the lips the last time she left. Not like a quick smack but like a real kiss. While marriah carrey's "all I was for Christmas" is playing. I hope this tale ends more like the movie, Love Actually and less like Silent Night Deadly Night Part 2.

Image: Some import model name Dawn Jaro. Most of her pics are with sneakers. I don't know.

Posted by yumyumcha at 11:17 PM

November 28, 2013

Whats happening
Kobe Bryant just signed a 48 million 2 year extension which means the Lakers will be feeding him a lot of cheese for a guy who's in the twilight of his career and coming off a major injury. Laker fans are in an uproar but that's only if you don't like Kobe, hoping for Lebron or Carmelo or still waiting for Phil Jackson to come back - at this point, none of that is probably going to happen.

Me, I'm cool with dat.

Whats been happening
After Dwight Howard left during the summer, the Lakers was straddled with 3 aging and injured all stars with a limited amount of money to spend on players - its hard to find a good candy bar for a quarter is all I'm saying. So Mitch, whatcha gonna do when you get out of jail. Apparently get a bunch of young former highly regarded college players who basically sucked and spent most of their time on the bench for several different teams trying to avoid the cold spot called lottery busts. Jordan Hill, Wesley Johnson, Xavier Henry, they all arrived, even Jordan Farmar came from Turkey to join this ragtag team of misfit toys hoping to revive their career. Leading them was the much maligned coach, Mike D'antoni who flamed out in New York and who's run and gun offense was dismissed by Phil Jackson worshipers (lets try this one more time, Jackson said he didn't want to coach a month before they talked to him and he reiterated that a few months after). But than something wonderful started happening, there was an esprit de corp with players sharing the ball and liking each other contributing to a competitive, well balanced A for effort team. Its kinda hard not to like these guys. They even play some defense which was D'antoni's slanty eye chink in the armor. Maybe Magic Mike knows what he's doing.

Whats going to happen
With a decent chunk of change going to Kobe, the Lakers are now going to find it difficult to sign the 2 best players in the 2014 free agency list, Lebron James and Carmelo Anthony. But who cares. It was pretty unlikely that the chosen one was leaving Miami and Carmelo has been a cancer his entire nba career. But you know what, there are decent players in the next tier of players including restricted free agent Greg Monroe from Detroit and Luol Deng from Chicago. Add that to a solid foundation and the Lakers are going in the right direction, a championship contender in the next couple of years.

Odds and ends
. Lot of Laker fans don't like Mike D'antoni and sometimes brings up the name of his assistant coach in NY, Mike Woodson while Phil Jackson loyalists want Brian Shaw in some elaborate conspiracy theory. But look how there teams are doing now. The Knicks are sucking at 3 and 7 while Denver is 1 game over .500 with a team that made the playoffs last season. Maybe Magic Mike knows what he's doing.

. Its still early in the season but Houston has not dominated with the inclusion of Dwight Howard - He still has no post moves and fumbles the ball when thrown the ball deep into the post. The rockets did not learn from the Lakers mistakes.

Posted by yumyumcha at 03:13 AM

November 19, 2013


The excitement of going to watch a new band is pretty a-ok and when its at some obscure venue, it's even better yet. The Exploding Flowers scoundreled their way into playing with a bigger band and was the opener at 9:00 on a Saturday night at the Bootleg Theater. They were able to get on the bill because they said they were going to be able to bring a 100 people in although it looked like maybe 50. So there was plenty of space all around with mostly friends of the band. But here's the thing, when you're just trying to get people into the venue, you're happy anyone comes.

Ok lady, maybe this is the first time you've come to a show but there are some common sense policies in place. Like for example, if there's plenty of room, you don't need to stand right in front of me to watch the band. Alright, you're an idiot but no biggie, I'll move over a step. But than you call your friend over and now I have to scoot half a step to look between the 2 of you but wait, every few minutes, you guys lean over to say something to each other. Now I can't see anything until you finish having your very important talk. So finally you decide to go chat with someone and I move up. You return next to me and decide to start dancing your arms so that you keep nudging me. If you weren't a friend of a friend, I would so kick your little skinny ass.

Alas, the price of supporting a small band.


Posted by yumyumcha at 01:19 AM

November 13, 2013


Good way to start the morning. A few things I learned from this video.

1. V neck tees look good if you have a trim moustache and beard

2. These kids are adorable but will he kick them out of the band when they get too old.

3. Do the kids really know what they're singing about cuz I read the lyrics and have no idea.

4. Must practice for next karaoke night.

Posted by yumyumcha at 08:09 AM

November 10, 2013


Ooh, where haven't we seen this before?


Scary goat like heads!


2 girls in costume for the show. Just 2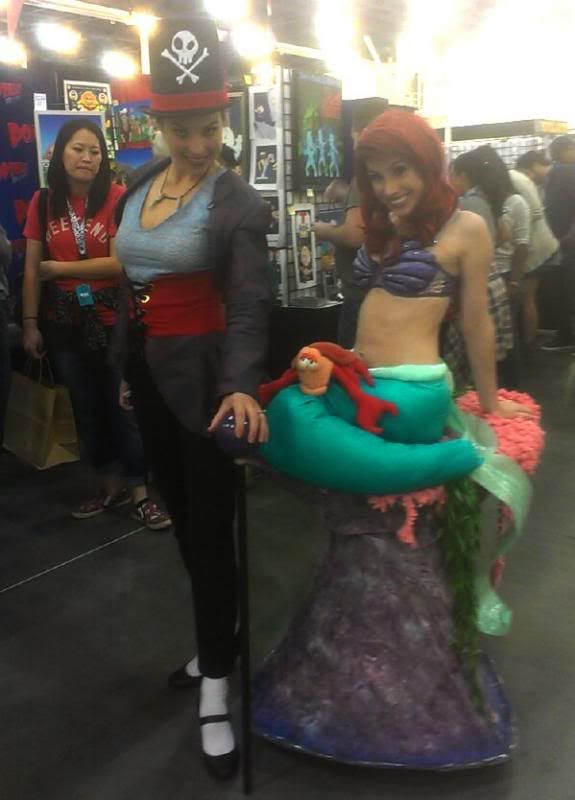 Taking a break from her awesome Vampi Bit Me (facebook) cosplay.


Dcon aka Designer Con aka Designer Toy con in Pasadena. 10 years prior, it use to be the vinyl toy con until the collected masses realized that they were dropping some ridiculous money for an oversized overhyped doll with funny hair and a broken english name. And its a "limited edition" because the vendor couldn't afford to pay for mass production. But fast forward 10 years later and its like artist alley at the San Diego comic con so you have a lot of creative type who sewed their own plushes, made their own prints or designed their own tee's. But I think most consumers don't know what to make of the show since it seems to be a hodge podge of different vendors which isn't necessarily bad but there just doesn't seem to be an underlying theme so I think consequently, people might be hard pressed to find something they want to buy. Its like going to a beverage show and realizing they only have 2 booths for soda, 2 for teas and 2 for coffees. So you might like sodas but realize, you only have 2 choices and if you don't like Jones or Fanta, you're out of luck. But hey, there's folger's if you want. And its a little expensive since most people don't appreciate the individuality and labor involved. Basically, are people buying shit? Here's something else too. One day costs $7.00 dollars. Two days cost $14.00. Errr, whats the incentive to buy 2 days, its not like its going to sell out. Or will they because you get a badge and a lanyard but they ran out of the badges about 4 hours into the show. So they had you use just the lanyard.

Posted by yumyumcha at 07:06 AM

November 09, 2013

Dear escort,

Of course I don't mind you smoking a bowl or lighting up your bong before coming into my car...buuuut I might just have to require a 20 minute quarantine from you until the odor dissipates because that sticky stuff is coming out of your clothes and pores and into my seat. 2 days later and my car still smells like I drive Cheech and Chong. Or at least give me a spray of ferbreeze.

Thanks for the bag of cold cooked meat. Thanks for the rolls toilet paper. I appreciate any tip you give me and won't look a gift horse in the mouth but next time, could you get me the little bottles of shampoo or pads of stationery. I could use some of those too.

When I say that small bottle of perfume is for "you guys", I don't mean that you're suppose to take it home to keep. Its suppose to be for my clients aka "you guys", to use in the car. I am not your free supplier of mints, gum, condoms and lighters.

You're a beautiful client but when you say that your last driver shouldn't have asked you to suck his dick because you would have it if he didn't ask, I'm not sure what you want me to do in case I do want you to suck my dick. This is like the drivers pythagorean dilemma.

So you're an escort and your husband doesn't know. Hmm, somebody zoomin somebody and I'm really not sure who.

import model: Jeri Lee

Posted by yumyumcha at 09:40 PM

November 08, 2013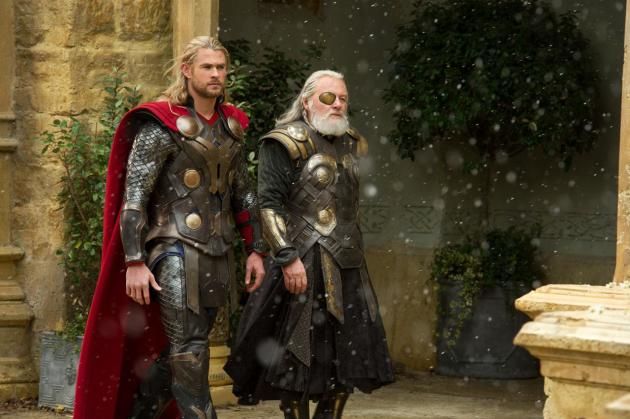 So you go through the stack of comics you bought as a kid and realize that only few of them actually had a memorable story and even less is worth anything anyway. 5 for a dollar bin, there they go. But that 99% still gave you joy so what the hell. The movie is the same way. The story is epic but not spectacular and so much time is spent on plot development that you don't really know that much more about Thor, Jane Foster or Sif. But maybe that's not important anyway especially if you're going there just to see Chris Hemsworth's buff body. So anyway, Malekith is a dark elf who tried to destroy the 9 worlds back in the day with something called the aether which looks like purple smoke. That didn't quite work out so everyone retreats home and eats munchies. Fast forward to today and Malekith gets reunited with his bong smoke and wouldn't you know it, the 9 worlds happen to be aligned in a manner that he can destroy them all in one big exhale. But you know, Thor has a big hammer so they do what all gods with big tools do, they swing it around until everyone runs away. Oops, spoiler alert but c'mon what did you think was going to happen, someone is going to die?

Did I like the movie: Yes
What I learned: Dark Elves and the Engineers from Prometheus seem to shop at the same make up counter.

Posted by yumyumcha at 02:11 PM